Follow our simple guide on how to use a dishwasher, from loading, using dishwasher tablets, selecting the right cycle and starting it.
06 October, 2021
There was a time when a dishwasher was considered a luxury appliance in the kitchen, but more and more Australians consider their dishwasher a must-have, convenient, time-saving appliance that they simply can't live without; and as they heat water up to 70oC in some cycles, which is much hotter than most people can tolerate, and it cleans and sanitises dishes and kitchenware more effectively, keeping you and your family safe.
It all seems pretty simple, just load up the dirty plates, pots, cutlery and glasses, press the start button and the dishwasher will do all the hard work. Well for those who need to know how to use a dishwasher for the first time, or for those who just want to get better results with each wash, here's some ideas to help you get the most out of your dishwasher, including its space and features.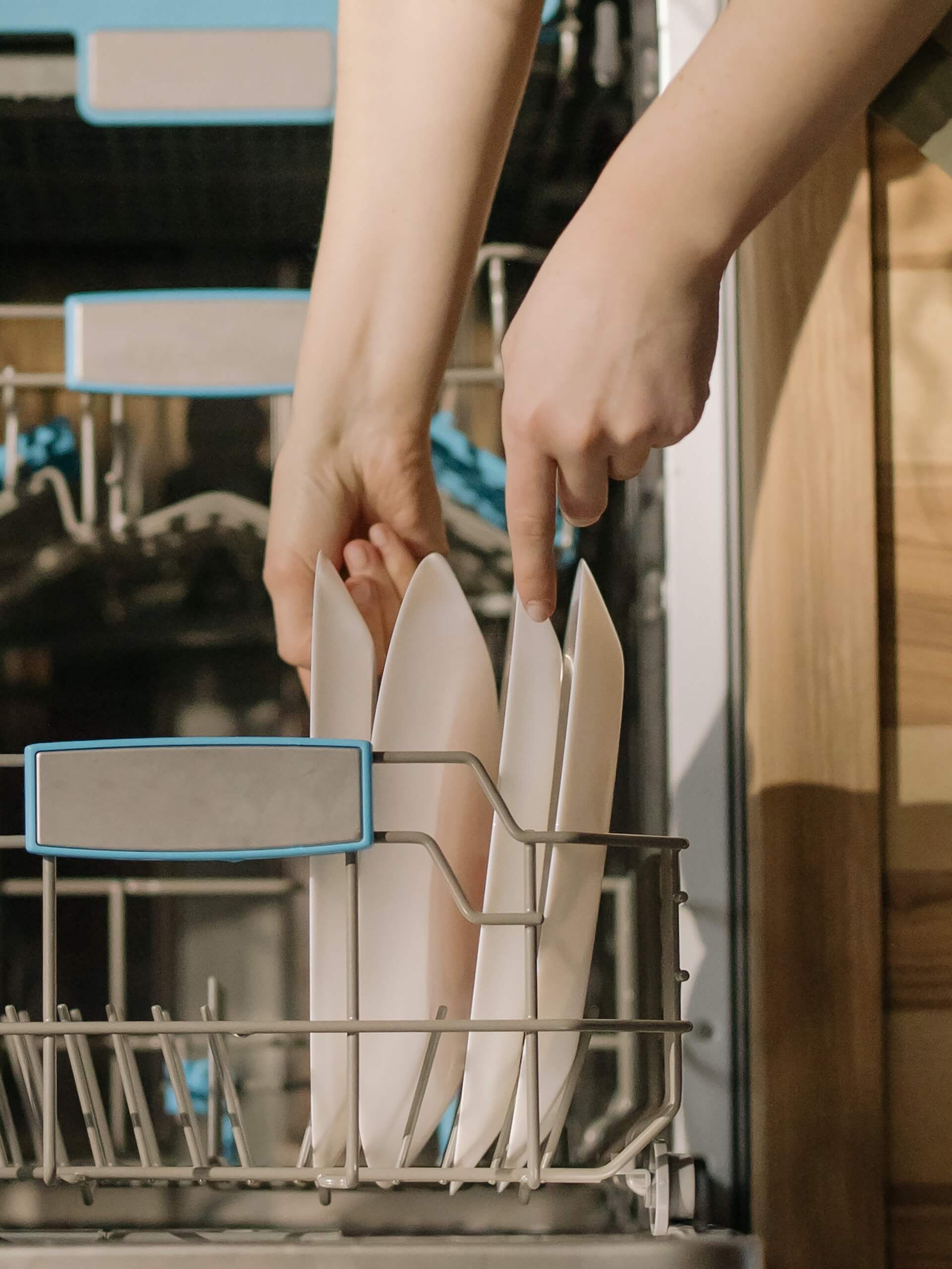 How to load a dishwasher
Whether you want to run a light wash or clean up all the build-up on your cookware after a big baking session, a big influence on how well your dishwasher load will wash is how well you load your dishwasher before you even press the start button. To get the best results look for a dishwasher that provides flexibility like foldable tines on the bottom rack to accommodate pots and pans, moveable cutlery baskets to accommodate all your plates in the configuration you want and rack options in the upper basket for your smaller utensils and items like espresso cups. Check out our blog on how to load your dishwasher for some straightforward tips and to get your wash cleaner.
You can also reference our dishwasher manual here on our 14 place silver dishwasher product page for more details on how to stack a dishwasher.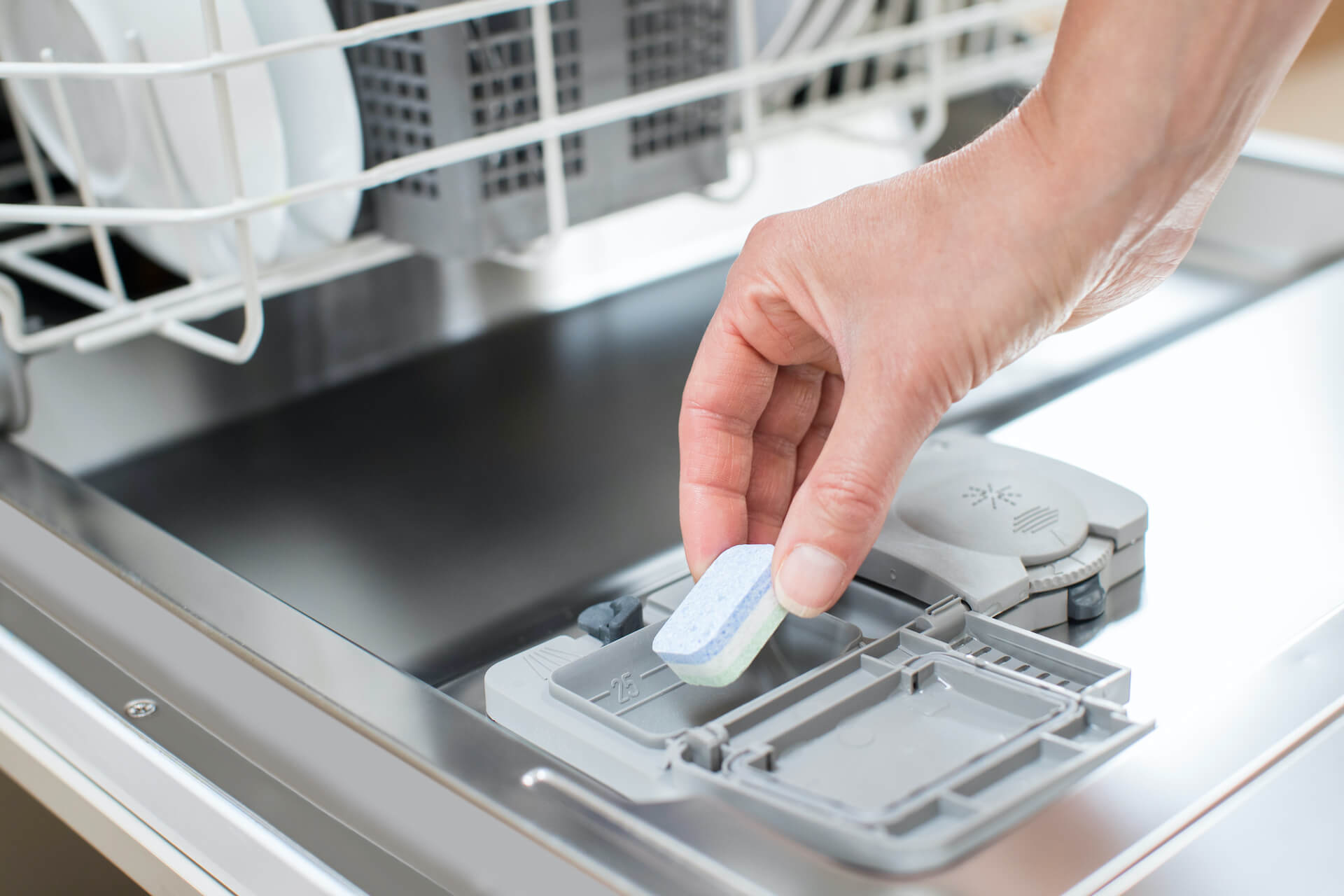 How to use dishwasher tablets
When it comes to washing your dishes in a dishwasher you will need to use specifically designed detergent for use in a dishwasher; using regular dishwashing liquid like what you use to hand wash your dishes will create a lot of suds and could damage the dishwasher. In a dishwasher there a few detergent alternatives you can use - powder, liquid/gel or tablet detergents are all good options.
Dishwasher tablets have become a popular detergent choice for many Australian households because of the convenience of the tablet - no need for measuring out the right amount or risking a spill of powder in your kitchen. The premeasured dishwasher tablets add yet another level of convenience to cleaning your dishes in the dishwasher; just pop the tablet into the detergent dispenser.
In addition to convenience of use, dishwasher tablet detergent is extremely effective at removing stubborn stains. Our dishwashers are equipped with a function called All in 1 Tablet which enables a better drying performance from the multi-purpose, 'all in one' tablet detergents (2in1, 3in1, 4in1, 5in1, etc).
If you're wondering where to put dishwasher tablets, it's quite simple. All dishwashers come with a detergent dispenser on the inside of the door of the dishwasher. Place the tablets in the detergent dispenser of your dishwasher. Detergent tablets are designed to be used under "normal" washing conditions, so when a short programme and low temperature washes are selected, this may not allow for the tablet to dissolve fully – this could result in some remnants of the tablet may being left behind.
As dishwashing tablets are already provided in a predetermined size they offer less flexibility than liquid gel and powder detergents which can be precisely measured for different size washes, so they may be less suited if you regularly run smaller or half washes.
In addition to the All in One Tablet function our 14 place setting dishwashers also have other time and efficiency saving functions like Half Load for when you have a small load you need to get washed or to suit smaller households, and the Time Delay function to get your dishes done later at a time that suits you. Learn more about the functions and other specifications of our 14 place setting dishwasher here.  
Other Dishwasher Detergent Options
When running a short wash programme without prewash it would be recommended to use powder or liquid/gel detergent, since the solubility of the tablet detergent changes depending on the temperature and length of the wash cycle.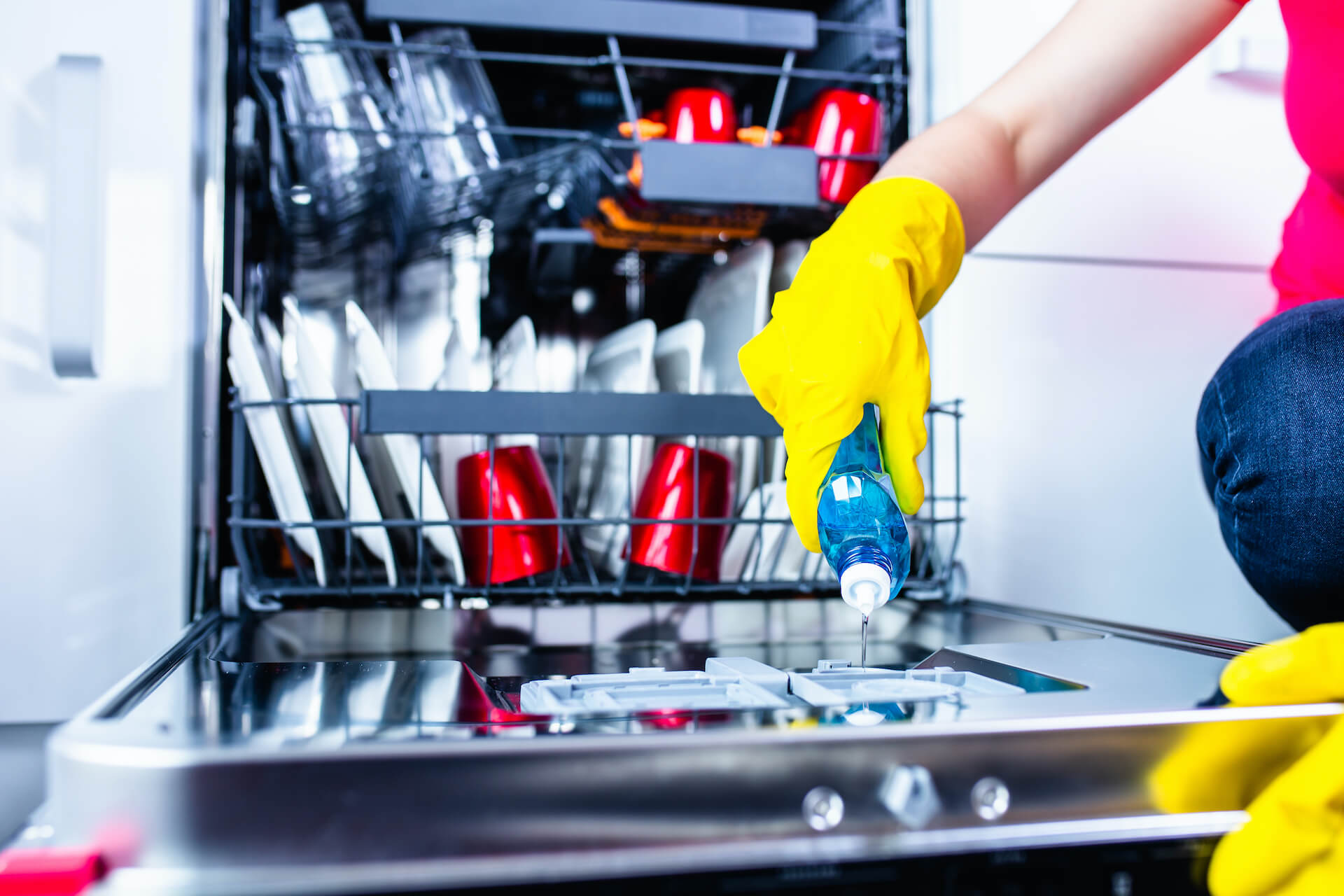 a. Dishwasher Gel Detergent
Specially formulated for use in dishwashers, dishwashing gel is different to the washing up liquid you buy to wash your dishes by hand. Normal washing up liquid should never be used in a dishwasher; it can cause excess suds to form, and permanently damage the dishwasher.
For people who wash a lot of delicate items in their dishwasher, gel detergent is a good option. The water-based composition of the gel detergent is a key advantage over tablet and powder detergents, as it is less abrasive on delicate items such as glasses and decorative dishes.
b. Dishwashing Powder Detergent
Powder detergent is the original dishwasher detergent option, but improvements have continued to be made to this type of detergent. This type of detergent can be more abrasive, so not really suitable for your more delicate glasses and dishware, but it can be the best option for removing burnt-on stubborn stains from pots and pans.
Note: You should always store all detergents and additives in a safe place away from the reach of the children.
How to use Rinse Aid
Most dishwashers also have a special reservoir, a rinse aid dispenser, where an additive called 'rinse aid' is poured. It is generally located on the inside door of the dishwasher, close to the detergent dispenser. It is released in the rinse cycle towards the end of your washing cycle to help minimise water spots on your dishes, glassware and other items and will help your wash load to come out sparkling.
Unlike the detergent that needs to be put in with each wash, the rinse aid dispenser will hold an amount of rinse aid to allow for multiple washes. Check the rinse aid indicator on the display panel to check there is enough rinse aid in the dishwasher before starting a load. You need to refill the rinse aid reservoir with rinse aid whenever rinse aid indicator appears on the display of your machine.
Dishwasher cycles
When it comes to running the dishwasher you're wanting to keep it quick and simple; you want a quick wash dishwasher, right. Every dishwasher has a number of different wash cycles to choose from, including but not only, a quick cycle; cycles like the normal, heavy, eco and quick wash, and even some more. Each cycle is designed to suit a specific purpose, so which wash cycle is the best option for you and your household. To get a better idea of which wash cycle is the best option to suit your needs read our blog on Dishwasher Cycles or read your dishwasher instruction which should include more information on each of the wash cycles available with that dishwasher.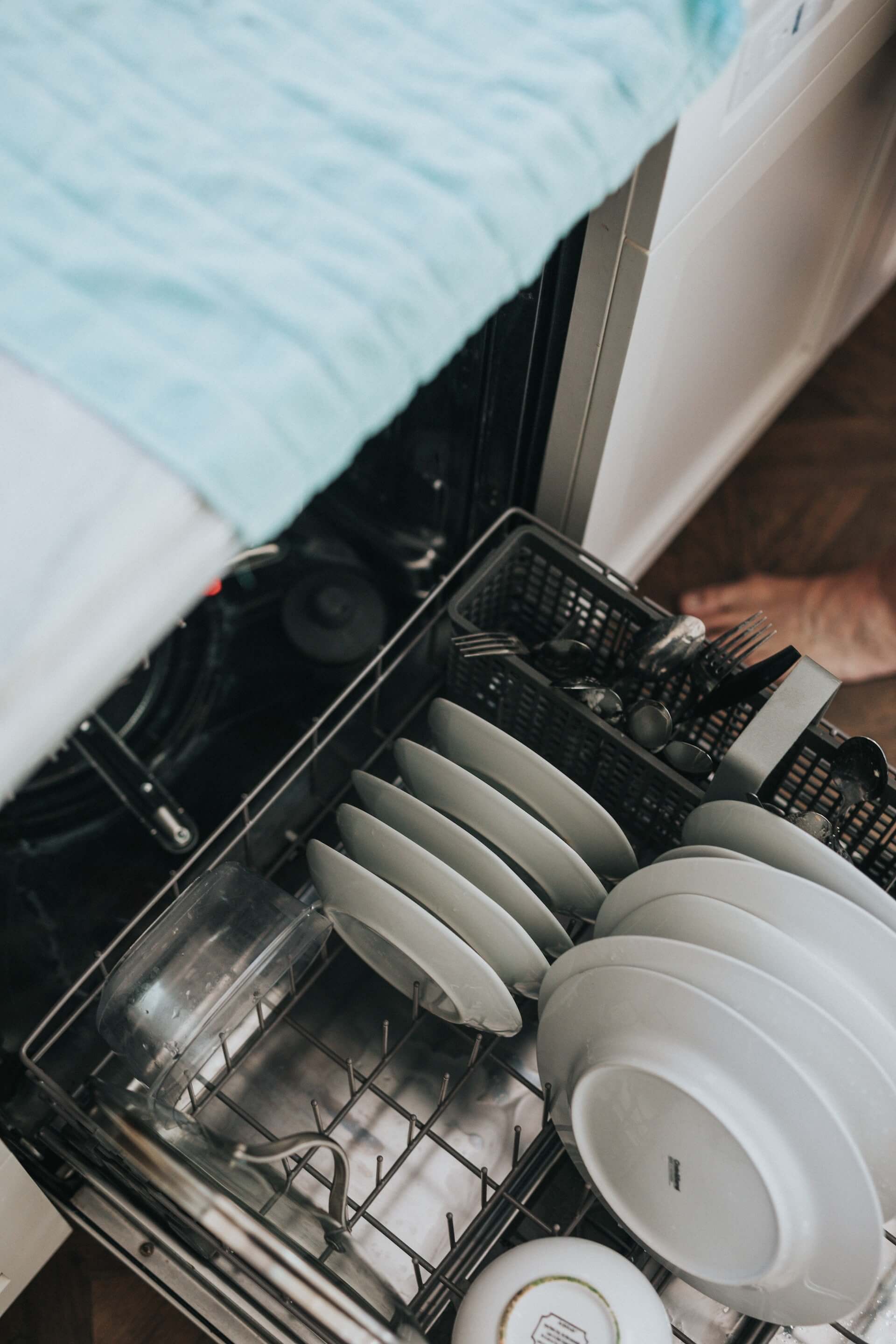 Starting a dishwasher
So now we have all the basics covered, it's time to get the dishwasher started on that dirty load of dishes, so here's the simple 5 steps on how to run a dishwasher.
Open the door and load the dishwasher as per our advice in 'How to load the dishwasher' above. Checking that both upper and lower spray arms move freely once the dishwasher is fully loaded.
Fill enough detergent into the dispenser and close the compartment door.
Check there is adequate rinse aid by checking the rinse aid level indicator. Refill if there's not enough rinse aid, this will help for your glasses to come out shiny and streak-free.
Use the on / off / programme selection controls to choose your washing programme that best suits the load – is your load heavily soiled or lightly soiled?
Start the programme with the Start/Cancel button
Last thing to remember – try to avoid opening the dishwasher door while the dishwasher is running. Opening the door interrupts the washing process, and hot steam will escape.
Once the washing programme is complete then it's just a matter of unloading the dishwasher. It's that quick and simple. Learn more about our range of dishwashers, and if you still have questions check out our FAQ page for more support.