How to load a dishwasher can seem pretty obvious but there's a few things to consider before putting your dishes and cutlery to wash. Find out more here!
22 September, 2021
At the end of a long day and having prepared and shared a lovely meal with others the last thing you want to face is the task of the big clean up – right. To help to get those dishes and pots clean quickly and easily it pays to have an efficient dishwasher that's going to fit it all in and get the job done effortlessly for you.
Loading the dishwasher seems straightforward enough, right, well there's a few things to consider before you go to load your dishwasher next time – you want to make sure your dishes are coming out their sparkling best and that nothing gets damaged in the wash. Here's a few things to consider when you load the dishwasher.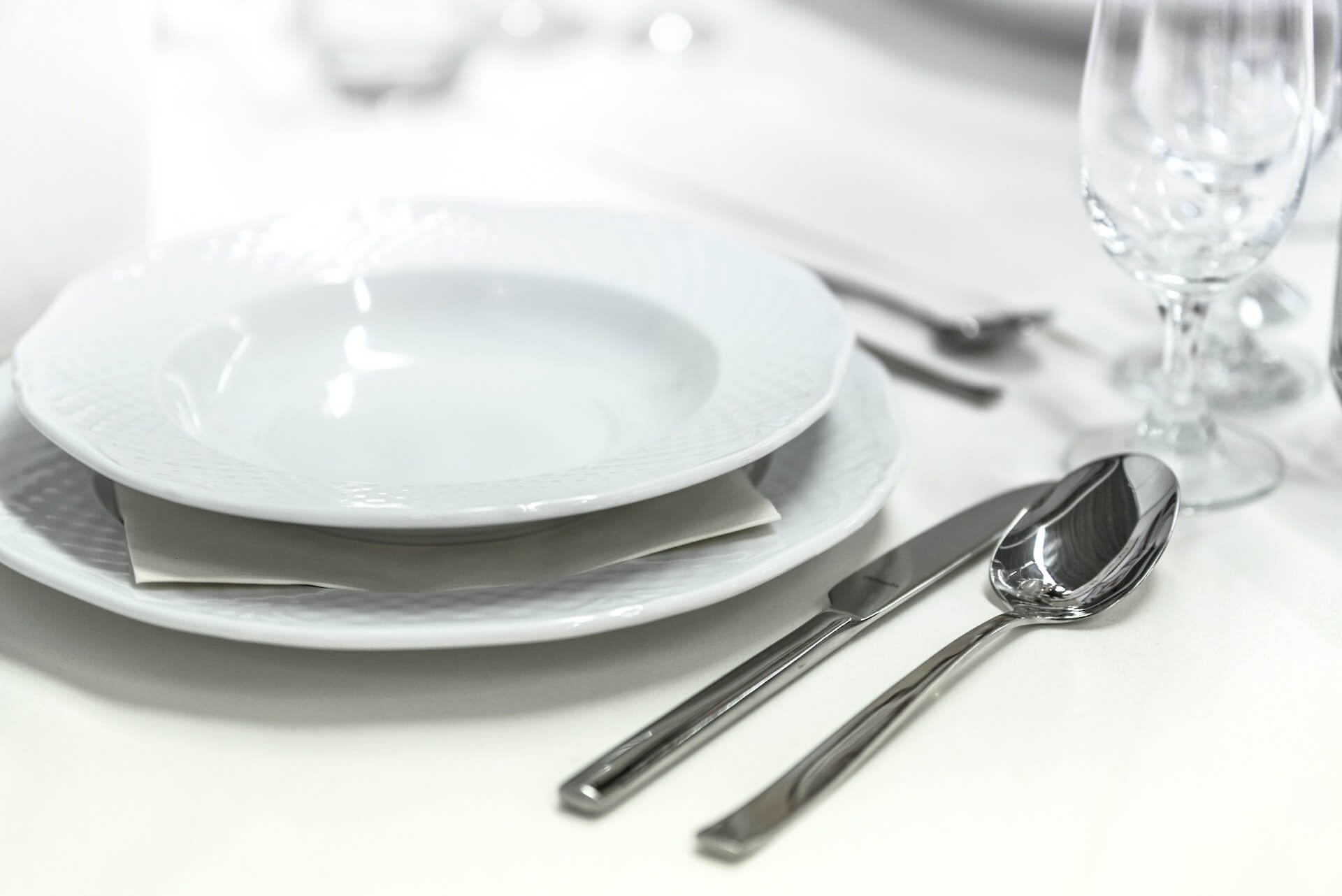 1. Before Loading
To load everything in the dishwasher for a quick and cleaner result is convenient, but don't assume all your favourite plates and dishes are dishwasher friendly.  Be sure to check the label on your glasses, bowls and other items before placing them to ensure they are dishwasher safe. Of particular note, things like a wooden utensil, bowls, chopping boards and pots and pans with wooden handles or nonstick surface are not recommended to be washed in a dishwasher and are better to be washed by hand.
Pre-rinsing your dishes before you put them in the dishwasher isn't required. Just scrape off any large food particles and residue before you place them in the dishwasher and your dishwasher and the specially formulated detergent will do the rest of the job, no need for rinsing.
2. Loading the Bottom Rack - Larger items
To get your pots and pans cleaner, the ideal position for cleaning is in the bottom rack of the dishwasher and many dishwasher have tines which will fold down which will make it easier to place cookware on the rack.
The bottom of the dishwasher is also the best place for larger items like a platter or oven trays, and many dishwashers have holding accessories on the bottom shelf specifically for holding items like oven trays. Check the spray arm connected to the base of the top basket to make sure it won't be blocked. You can do this by turning it. If it touches the tray this will stop the its operation during the washing cycle.
3. Loading the Bottom Rack – Plates
When it comes to putting your plates in the dishwasher, they should be placed in the bottom rack along with your pots and pans to be cleaned as effectively as possible.
Position them so they face the middle of the dishwasher, this will ensure they're properly exposed to the spray of water during the cycle. The tines on the bottom rack will assist to position each plate and bowl properly. Don't be tempting to over pack your plates, this will block the water flow - and your plates won't have the sparkly, shiny end result you were expecting.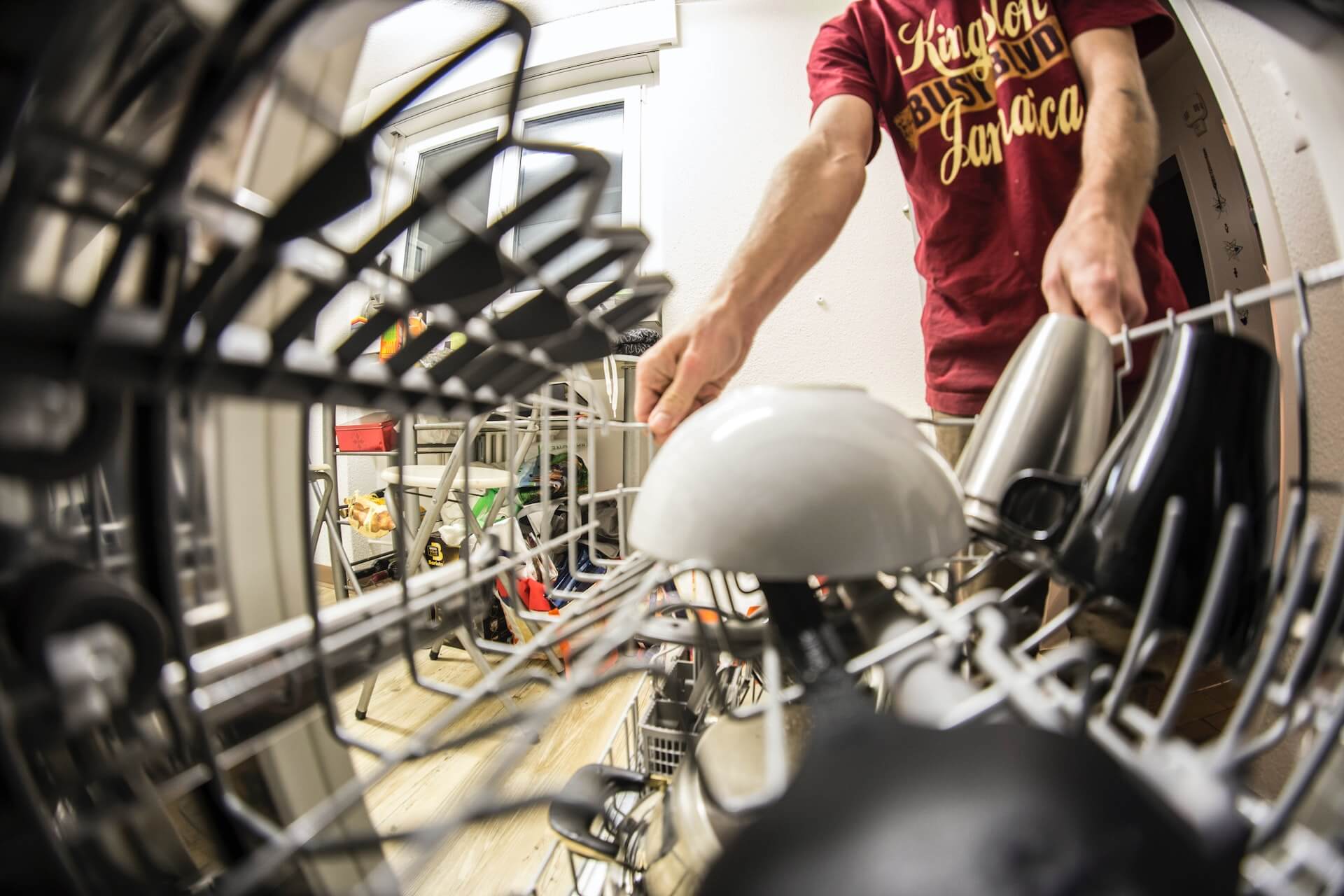 4. Loading the Top Rack
The best place to load your more delicate items, like your glasses, cups, saucers, bowls, and cooking utensil, is in the top rack. The top rack is the spot for a safer and more fragile-item friendly wash. Ensure you load them upside down along either side of the rack so the water can get inside to clean them effectively.
Avoid crowding when you're packing your dishwasher; if you overcrowd, placing items too closely together will block or obscure the surfaces of your crockery that need to be cleaned from the water and detergent during the washing cycle. Load items in the rack so they are not too loose that they can move around, but not too tight that they might cause breakage. Also, if you're washing plastic item, these are best loaded in the top rack too.
Also, on the top rack, many dishwashers have smaller folding racks. These are ideal for your espresso coffee cups or to support the stems of your wine glasses. It can also be the ideal place to lay a long cooking utensil like a spatula.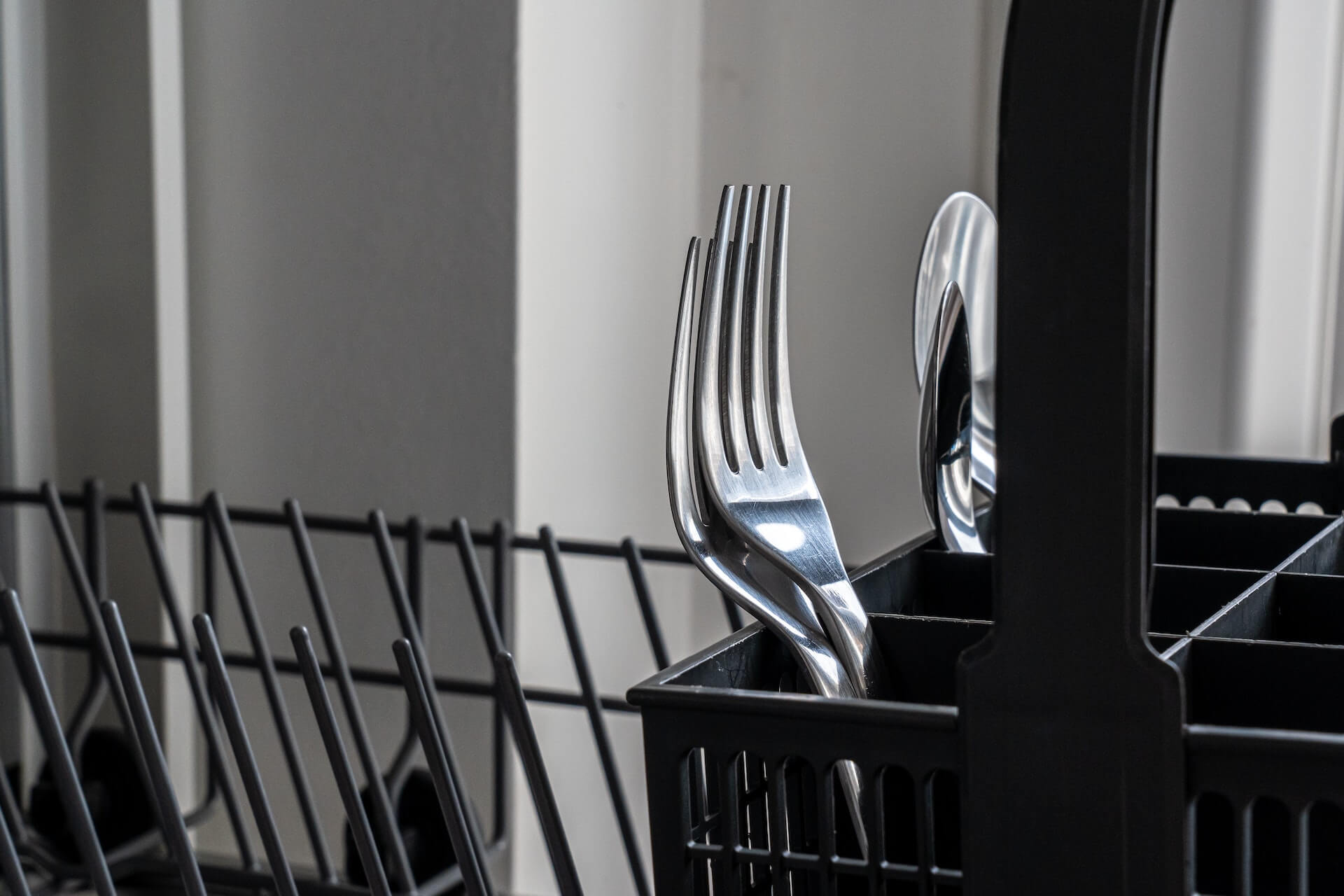 5. Cutlery
Some quick things to consider before packing your cutlery basket.
Stainless steel and silver can react with the detergent in the dishwasher, and cause damage to silverware, so be sure your cutlery is dishwasher safe before placing it into the dishwasher.
To ensure everyone's safety, make sure to place knives with the handles up in the air when you load the cutlery basket. This will avoid any nasty cuts when you're unpacking the dishwasher.
Check the placing of plates to ensure they do not obstruct the cutlery in the basket, the spray arms need clear access to clean all your cutlery and flatware in the basket.

6. Internal Flexibility
When it comes to cooking you don't cook the same meal every night, so the pots, pans and crockery will differ each day. For this reason what and how you pack your dishwasher each day will differ, that's why it's your dishwasher needs to be flexible enough to suit your daily needs and cooking style. Dishwashers come in different internal sizes, referred to generally as place settings. A place setting simply refers to all the cutlery, plates and glasses you would use for a three course meal. A common size dishwasher is a 14 place setting dishwasher, so with this size dishwasher you could wash all the items to serve a three course meal to 14 people in one wash load, but this does not allow for all the other items like the coffee cups, pots and pans, cookware, ladles or even a spatula. These items need to be cleaned too right.
For an average home they're not serving 14 people for dinner, but a 14 place setting dishwasher provides an efficient and quick solution to getting clean dishes and baked-on grime off all those pots, pans, spoon, fork, and even your glasses less the water spots; so all you have to worry about is who will unload it when the cycle is finished. Learn more about our 14 place setting dishwasher options.
As you can see there's an ideal place for every item you need to wash in your dishwasher, because after all, if you were washing your items by hand you wouldn't scrub out your delicate wine glasses with the same pot scrubber as you do that dirty fry pan. It would just result in breakage, and your dishwasher has targeted zones for those harder to clean items vs the delicate and smaller ones.
At the end of a long day and having prepared and shared a lovely meal with others the last thing you want to face is the task of the big clean up – right. To help to get those dishes and pots clean quickly and easily it pays to have an efficient dishwasher with the flexibility to fit it all in and get the job done effortlessly for you. If you still have more questions about dishwashers why not have a look on our FAQ page.