When buying a new oven, make sure to look at the different sizes, specifications, features & installation options available in Australia.
13 October, 2021
We expect a lot from our oven, it's the heart of the home. A wide variety of electric ovens now come with an array of features from self-cleaning features like pyrolytic cleaning, or steam cooking features, but if you're looking for an oven that's functional and has easy to use settings, then keep things simple rather than being overwhelmed by all the bells and whistles.
Deciding which ovens to consider on your shopping list doesn't have to be a daunting exercise. Look past all the unfamiliar terminology and overwhelming specifications. When it comes time to buy a new oven here's a few simple things to consider before clicking add to cart.
1. Oven size 
The most common built-in oven sizes here in Australia, also sometimes referred to as a wall oven, is 60cm. For single door ovens, they are most typically 60cm in width and height, and even for a double oven, it is most common for them to have a 60cm width, but the height will vary. For a single oven, being the most common oven in Australia, they can either be installed in one of two ways:
Built-in – this style is when the oven is installed at eye-level in a wall tower or the kitchen cabinetry. This is way of installing the appliance is often considered more ergonomic for cooking in the kitchen.
Built under – this is when the oven is installed under the benchtop. This way of installing the appliance can be referred to as built under or under bench. The oven is usually placed directly beneath the cooktop or hotplate for ease of cooking, but it is very important when using this style of installation to make sure there is adequate clearance between the top of the oven and the underneath of the cooktop by checking the dimensions of the cooktop as well as the oven prior to installation. Find out more about Altus cooktop

2. Oven capacity
The oven capacity tells you the size of the internal cavity of the oven in litres and of how much you can fit inside the oven at the one time when you want to bake. Altus built-in ovens make cooking large meals simple with a generous 81 litres in capacity. See the full Altus oven range.  
3. Oven features
Whether you're a home baker, making a roast or just want to cook a quick dinner you expect a lot from your oven. So what are key oven features you should be looking for in your new oven:
Cooking functions
Ovens come equipped with different cooking functions or settings designed to provide the best cooking performance depending on what's being cooked or baked. The Altus multi-function oven comes with 8 cooking functions.  
Oven type
Multifunction - If you're looking for more options in how you're your food is cooked, then a Multi-function Built-In Electric Oven is your best choice. Combining electric heating elements and fans to provide heating to suit the cooking style, it provides you with better control when cooking.
Fan Forced – A step up from conventional ovens, fan-forced electric ovens are ideal for fast cooking at high temperatures. Fan-forced ovens have a fan that circulates the hot air around the cavity of the oven providing a faster cooking time. See the Altus fan forced oven.
Cooking racks / shelves – In addition to the oven capacity, how much you can cook all at once will also be determined by how many racks or shelves the oven has. If you're a home baker you'll want multiple racks in your oven so you can cook batches of cookies or slices at once, and keep the flow of your baking going. All the Altus oven range come with 5 standard shelves.

Oven installation
The installation of the oven can be relatively simple as they are designed to fit into most standard kitchen cabinets. Before making your purchase, make sure the built-in oven is the right size for the cavity you have chosen in your kitchen cabinet or under your benchtop. Check the area surrounding where you're looking to install the new oven, ensuring your can fully open the oven door.
It's important to be aware, in Australia most ovens need to be hardwired to the electricity supply, and this can only be done by a licensed electrician. The good news is, if you're looking to install a new built-in oven without fuss, some, like our fan forced built in electric oven can be plugged directly into a 10A wall socket for quick and easy installation.   Make sure the location for your new oven is near the power point you wish to use, or if you're having the built-in oven hardwired that it's near the power supply so it can be properly installed.
Finally, it's important to note ovens come with a bit of weight, so check the weight in addition to checking the measurements of the oven. You'll need to ensure the cabinet you'll be installing the new oven into can support the weight of the oven and has enough clearance around the back of the oven once it's installed inside the kitchen cabinet to be safe. To be sure of how much room you need check the cut out dimensions on the manufacturer's specification sheet. You can find these for Altus oven range on the individual product pages.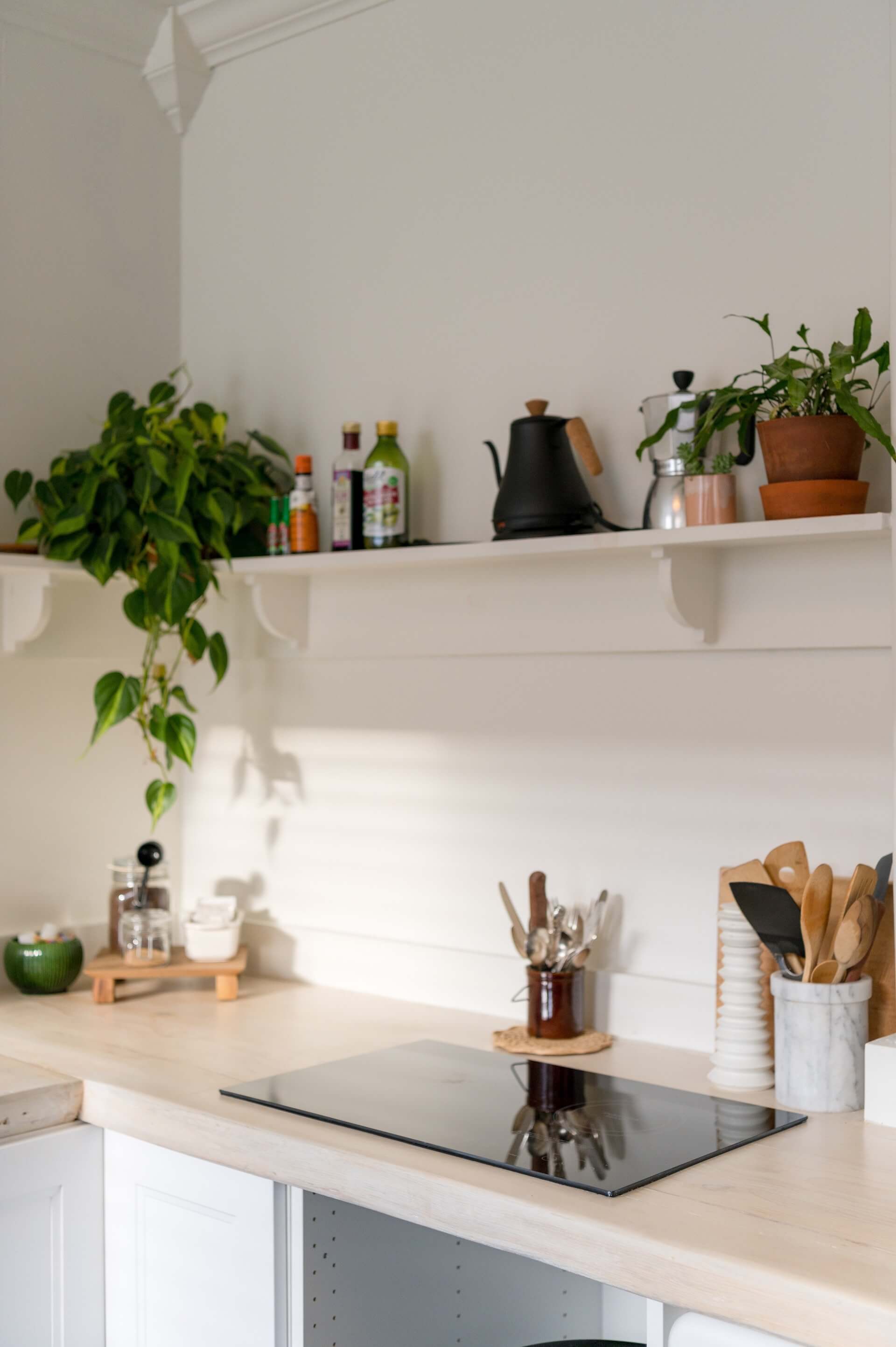 Other cooking appliances
A cooktop is the ideal solution for cooking quick and simple meals easily with minimal fuss and mess. Paired with the oven directly below it under the benchtop, this becomes your new 'cooking zone'. Just like your oven, in Australia a cooktop must be installed by a licensed tradesperson and adequate clearance needs to be allowed between the base of the cooktop and the top of the built-in oven which will be sitting directly below the cooktop inside the kitchen cabinet.
The microwave is an appliance that receives daily use in most Australian homes. Why not consider maximising your benchtop space by installing a built-in microwave. They can be configured side by side with the installed oven, or when packaged together with a built-in oven they offer greater baking flexibility than a double oven.
Still unsure about your next built-in oven or if you've got all the information you need, why not check our frequently asked questions on built in ovens.   
Getting a new oven is an important purchase and it's a kitchen appliance that needs to meet a variety of needs in any home. At Altus we aim to combine durability with functionality in all our products; we offer technology in its simplest and functional form. Our range of Altus built-in ovens are designed for every day use; in a modern sleek stainless finish, they fit seamlessly into any kitchen offering all the features you need without the unnecessary bells and whistles.